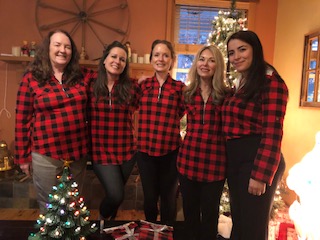 As I sit here today on Christmas morning typing this, with my family asleep and the cold Ohio rain pouring down, I'm filled with gratitude for my life and for the health, safety and wellness of my family and friends. We are truly blessed and this season is all about helping those that may not be having an easy time with life, or going through a rough period.
That's what matters the most about this season. Recognizing how many blessings we have in our life and pausing the hectic and often stressful minutiae that tends to occupy our minds to give thanks and appreciation while helping out our fellow man. I want to thank each and every Aura Sensory customer from the bottom of my heart for your loyal patronage.
We are a small business and every single customer means we can continue to endeavor to provide the highest quality, safe and effective naturally based body, skin and haircare products. Please accept our debt of gratitude to you. For without you, none of this would be possible, and without your generous product reviews and continued business, this dream wouldn't be possible.
Merry Christmas, Happy Holidays and the warmest and most prosperous New Year to each and every one of you and those you love. Here's to another great year with all of you :)