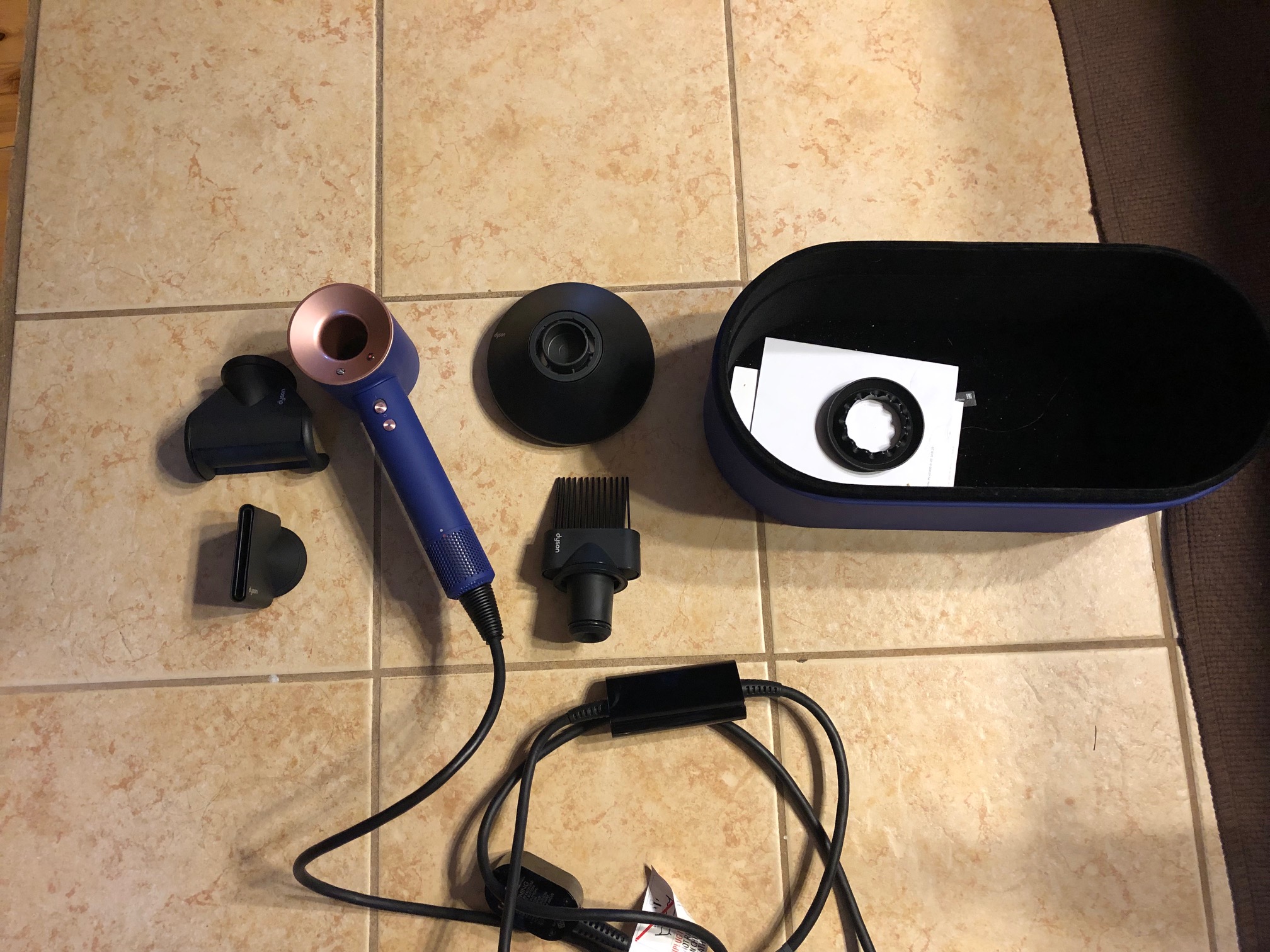 Welcome to my Dyson Supersonic Hair Dryer review - Part I of a III Part series, because I suspect I will have a whole lot more to say once I've used this cool little piece of technology more and more. First I want to start off by telling the story about how I came to own a Dyson Supersonic dryer.
Don't miss out on Parts 2 and 3!
Dyson Supersonic Hair Dryer Part II
Dyson Supersonic Hair Dryer Part III
This dryer is like all other Dyson products. It's a very high-tech, cutting-edge product that has a sleek and innovative design. I think of Dyson as the 'Apple' of small household appliances. We actually own their "Animal" vacuum cleaner. We've had it for about 15 years now and it's still going strong.
We also own the Dyson cordless handheld vacuum, another long-lived product in our household. So we're big fans of their technology. I'm a huge believer in paying more to get higher quality and longer lasting goods. HOWEVER this dryer is something I had not seriously considered, because it just wasn't on my radar to spend north of $400 on a hair dryer when I could get a high quality one for around $150-$200. We're on a few financial missions right now, and it just didn't fit into my budgeting priorities at the moment.
How Did I End Up with This High End "Luxury" Dryer?
My beloved Babyliss infrared ionic dryer with a Ferrari motor had finally proven to be over-heating my hair. It's like the heat element was working overtime, and I was starting to notice my hair was looking burned out. It was time, after ten great years or more of loyal service, to find a replacement. Related: How to Get Your Hair to Dry Faster
So I found one on Amazon after what seemed like hours of research and reading reviews. I landed on purchasing one for about $200. I proudly marched into my husbands office and proclaimed that I had just finally bought myself a new hair dryer after hemming and hawing for months. He told me I needed to promptly march myself back to my computer and return the dryer. Mind you, this was about a month and a half before Christmas.
He said well, I didn't want to tell you but your forced my hand. He had bought me a Dyson Supersonic hair dryer for Christmas! I was actually stunned, because I never thought he would have thought to buy me something like this.
So I went ahead and returned the dryer I had just purchased. And the rest is history. That was a very long intro to my review of the Dyson, but I felt I had to tell the backstory to convey the fact that this was truly a luxury item for me at this point in time.
That Packaging, Specs and Appearance
Let's start first with the packaging my particular version of the Dyson Supersonic came in. It came in a large special edition box. It was an oval box (pictured) and contained the dryer itself and all of the attachments it came with. It will make for a nice storage box to keep all the attachments together, but seems a bit large to realistically fit into travel luggage. Related: How to Choose a Hair Dryer Type: Ionic, Tourmaline and More
The dryer itself is pretty small. The handle is longer than what I'm used to, but it's comfortable to hold. The air vent is actually in the handle, which at first seems kind of awkward, but I see why it was designed that way, to probably help with the clogging and make it easy to clean.
The head of the dryer is only about 3 1/2 to 4 inches long I'd say and probably about 4 inches in diameter. It's definitely the smallest head I've ever had on any other hair dryer. Related: Is It Normal for Hair to Fall Out When Washed?
It's not too heavy. Not super light, but also not heavy. I also have to say I read a lot of reviews from users that really care about the weight of a hair dryer. I could care less if it weighs a little more or less. All I care about is the results it yields, how my hair looks and feels, and how fast it blows my hair dry. After all, if you can get a good, thorough and healthy blow-dry in a short period of time, weight really takes a back seat in importance to the overall equation.
Stay Tuned for Part II – Attachments, Speed, Weight and More!
Stay tuned for part II of our two-part Dyson Hair Dryer review. I will include the overall results after using the product for over a month at that point, and we'll get into some of the ease of use and convenience aspects. SPOILER ALERT SO FAR I'M LOVING THIS DRYER. This will include the speed, heat, weight of the dryer, usability of the dryer and drawbacks plus benefits, and more as my time and experience with this so far pretty awesome dryer gets longer!