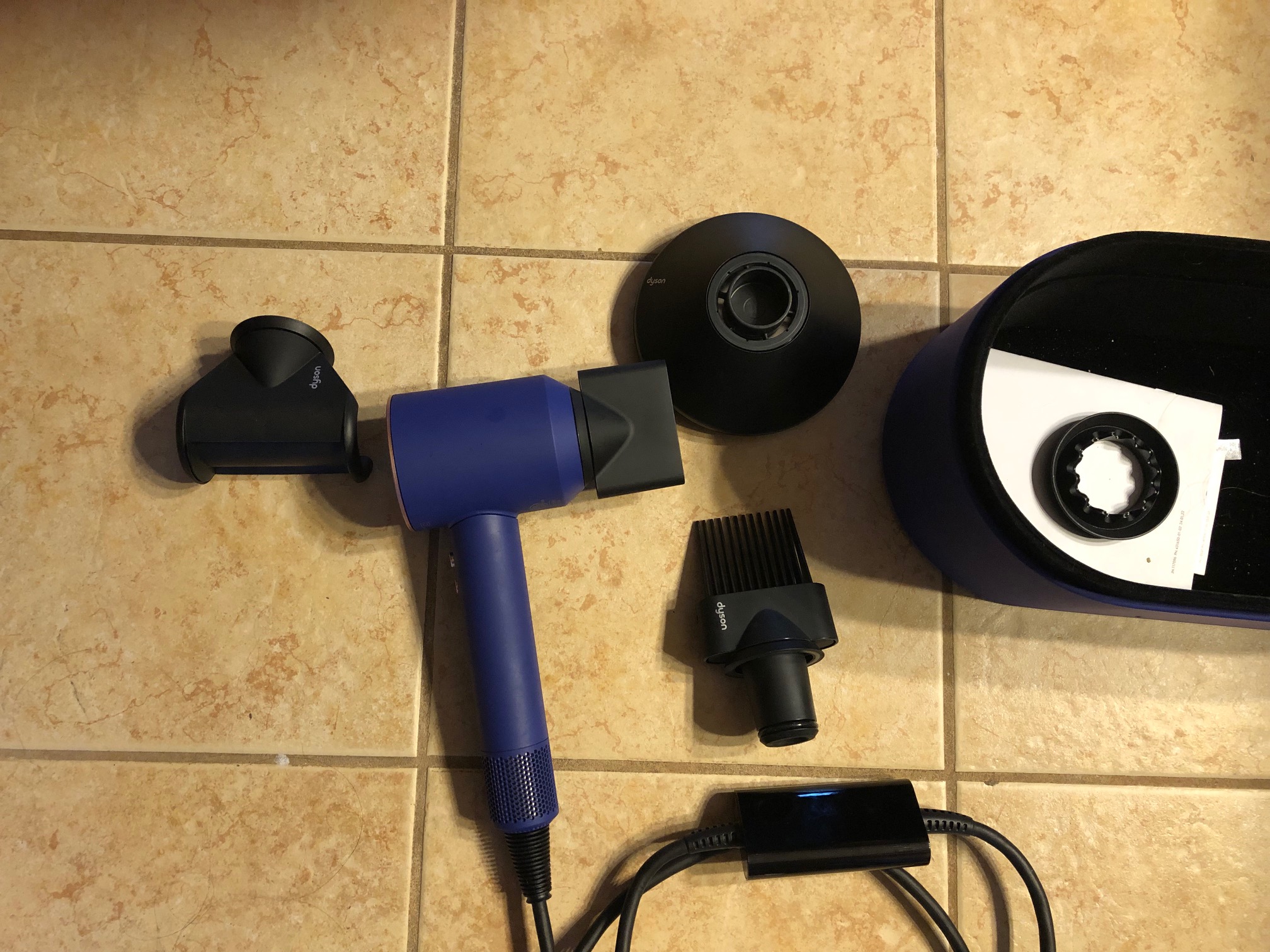 Welcome to the continuation of our Dyson Supersonic Hair Dryer review! Part I talked about the basics of this professional grade blowout phenom. Now we're going to delve in to the attachments, which is one of the most surprisingly useful parts of this dryer for someone like me who never really go into using attachments.
Don't miss out on just-published Part 3!
Dyson Supersonic Hair Dryer Part III
We'll also talk about a hugely important aspect which is speed. After all, no one wants to spend more time than necessary on blowing out or just doing a normal wavy or messy dry on their hair!
The Dyson Supersonic Attachments
The special edition Dyson came with a nice supply of attachments. These are actually the best, most efficient and convenient attachments I have ever gotten with any hair dryer. To be honest, I never used the attachments on my previous dryers because I didn't really see the point.
Plus on my previous dryers, attachments always seemed clunky, like they wouldn't really stay on the head of the dryer, or they seemed to not really do anything different to my hair than if I just used the dryer without any attachment at all. Related: Finding the Right Hair Care Products
The Dyson attachments are amazingly simple and easy to use.. They are magnetic, so you really only need to put them near the opening on the dryer head, and they click right into pace magnetically and seamlessly - it's pretty brilliant. I've used two of them so far, the diffuser and the concentrator.
There are two more included that I haven't had the time to experiment with yet. There is a flyaway attachment that is this very strangely shaped piece that I can't quite figure out what exactly it would do. Disclaimer, I did watch a video on it, and it appears to be mostly for the little stray hairs you get when you're trying to do a true blowout - as in a straight blowout.
Since I'm not really into straightening lately but more a wavy look, I'm sure I will eventually experiment with this one. The other I have not tried is the straightener attachment with a comb on the end. Judging from the concentrator attachment and diffuser attachment performance, I'm sure these other two are winners as well.
The Diffuser Attachment
I was surprised by this one. I have tried other diffuser attachments. I was never quite sure what they were supposed to do, and they didn't seem to give me the body and root lift I was going for. This diffuser attachment looks the same as others. Related: Keeping Long Hair Healthy Looking
I would compare it to a large shower head. It's a sort of dome shaped round attachment (the largest of all 4 of them), that covers a large area of the scalp. It contains multiple holes through which the dryer air comes through, so it disperses the drying air much more efficiently than if you just used the dryer without the attachment. If you want the fastest dry possible, you're going to want to utilize this attachment as your first step in the drying process.
I have found that I liked to use the diffuser on the high heat and high airflow setting the best. This gives me the best "messy-quick" dry which helps cut down on my dry time. It also gives my hair some nice root lift, especially at the back of my head where my hair tends to look flat. I hold it pretty much right up to my scalp, and it dries the roots and base of my hair surprisingly efficient and fast.
Step 2 (if Blowing Out or Smoothing is Desired) - The Concentrator Attachment
Once I have a decent enough area dried to a reasonable level, I take the attachment off and continue to "messy" dry the rest of my hair. Once I have it a little more dry from that, I put the concentrator attachment (pictured inserted into the dryer above for a visual)on and focus on each section of my hair.
You don't have to be going for the straight look necessarily if you're using the concentrator. You can still have looser, beach waves if you want. This will just smooth out the sections so you get a less frizzy outcome.
If I want a wavier look, I'll just pull the sections with my fingers, if I want a straighter look I'll use the concentrator on these smaller sections while round brushing each section out, pulling the section with the brush while running the concentrator down the hair shaft.
One important professional's tip - you always want to be blowing your hair dry in a direction that is away from the scalp. This will help to keep the cuticle flat instead of roughing it up. This translates into a flatter, shinier surface and less frizz. If you blow it in the opposite direction, you'll be roughing up those little "shingles" that make up the hair strands.
Speed
The speed factor is one of the best parts about the Dyson. You will notice the wind-tunnel like effect if you turn it up to maximum (3 levels) speed. And you may want to make sure you don't direct it at your bathroom counter, 'cause it will blow stuff right off your counter if it's light enough!
If you don't like a whole lot of power and speed, you can always turn it down a bit, however I'm all about getting things done as quickly as possible. If I can cut down my drying time, I'm going to do it. It doesn't mean you have to combine high speed AND high heat. If you're concerned about higher heat and damage, you can always crank up the speed and lower the heat.
I have to say though, the heat settings don't get all that hot. And yet, somehow your hair also dries incredibly fast without the high heat. So there's definitely something unique about the Dyson technology compared to other brands I've tried, because usually it takes heat that's noticeable to the touch to dry hair this fast. Somehow the Dyson does it fast, without the noticeable high heat.
Stay tuned for Part III (the final installment) of our Dyson Supersonic Hairy Dryer Review, where we will focus on some final thoughts and observations on this high tech dryer. Topics for Part III include weight, overall hair health, shine, and body and movement. All important factors of healthy looking, vibrant hair.