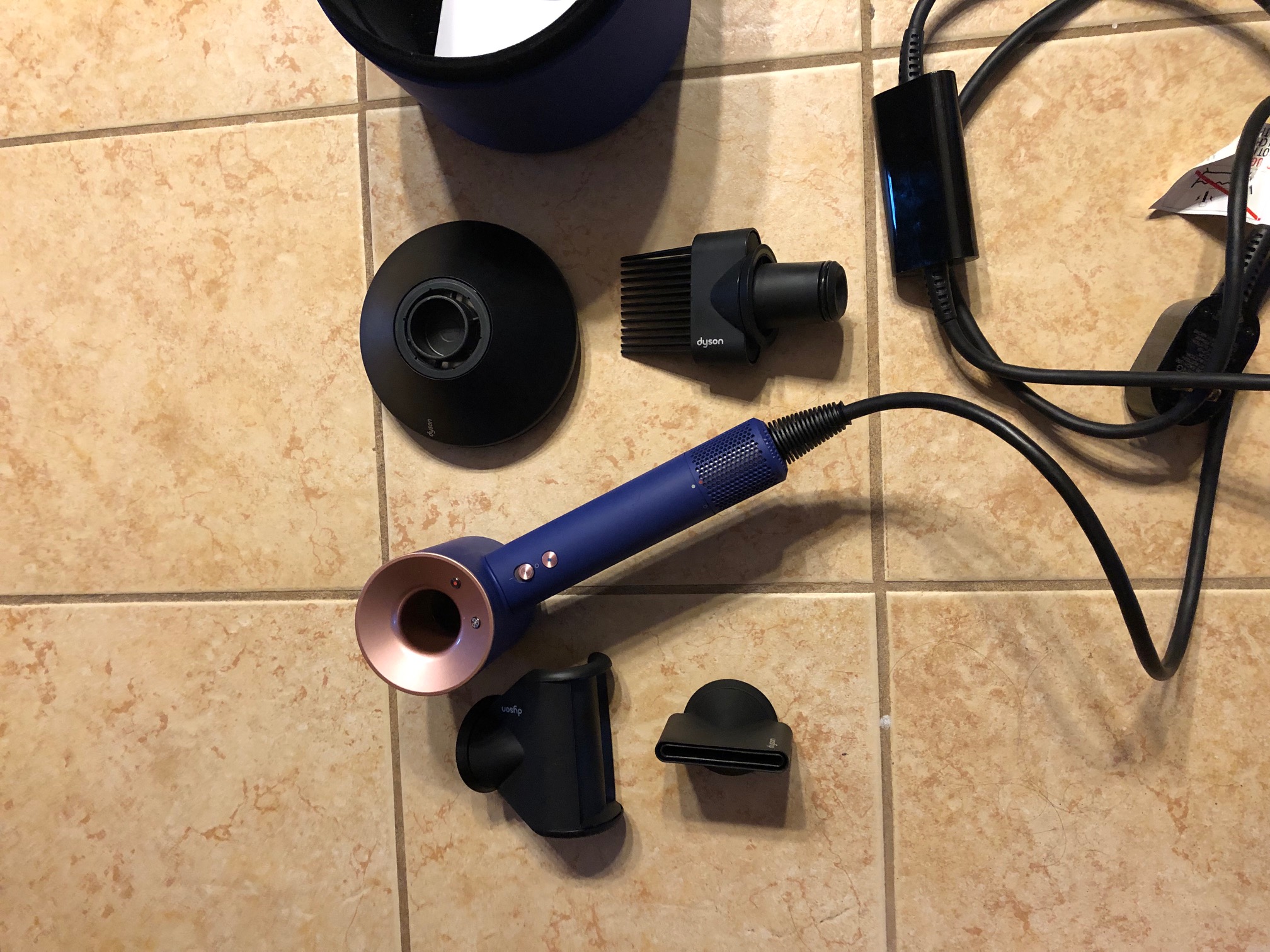 This was a three part review, so suffice it to say, I had a lot more to share about our experience with this powerful little piece of technology than I expected! It has really been a pleasure to own this tool. It really is the epitome of high tech beauty and grooming. And I'm a person who really dreads wash days! The last few things about this dryer we'll talk about are some of the finer details - dryer weight, and what to expect regarding shine enhancement and overall health and body.
Don't miss out on the first two parts of this review!
Dyson Supersonic Hair Dryer Part I
Dyson Supersonic Hair Dryer Part II
Weight
Some people consider the weight of a hair dryer a big deal. The lighter the better, especially if you're a professional I'm sure since this usually means you're using a dryer several times a day on clients and I'm sure they can feel heavy after a while. The Dyson Supersonic seems to clock in around 2 pounds without attachments, maybe a bit less. It may not be the lightest out there, however when you factor in how fast it works to dry the hair, the weight really becomes secondary in my humble opinion.
Overall Hair Health
The longer my husband and I have been using this amazing dryer, the more benefits I've noticed as far as our hair's health and strength. I used to have a lot of breakage in the hair surrounding my face. Probably due to over-styling and just the fact that this hair is more exposed to the elements. But I also think my older dryer was simply too hot and was damaging that hair.
I've noticed the breakage has really improved. In fact, I'm starting to see more baby hairs around my face the longer I've used the Dyson. So I can only logically conclude that this dryer has been much healthier for my hair and more conducive to hair growth. It also has seemingly reduced the likelihood of breakage, so it may have even fortified my hair with additional strength.
Shine
Our hair is definitely shinier looking too. This is especially true if I take my time with the drying process a bit more instead of just messy-drying it for five minutes when I'm lazy and don't feel like messing with attachments.
If I take a little additional time and use the concentrator attachment afterwards to give a few downward blasts to the sections of hair, it really helps to rev up the shine, and produces a better overall result. This also helps to encourage a nice bounce and movement.
Body, Movement
The last comment I have is that this tool is just enjoyable to use. You know that you're not in for the long haul when you are going to dry your hair, so it makes washing your hair a bit more of a refreshing and less cumbersome event. I used to dread having to stand and dry my hair with a high heat dryer that still took about 15-20 minutes to get the job done, only to leave my hair looking dry and bushy with that dreaded "just washed" look.
I like the way my hair feels after using this dryer too. It just feels lighter and has more movement right away. It adds to the overall "just washed" fresh feeling that you get from washing your hair and scalp somehow and I'm not sure I can fully articulate how. Related: How to Choose a Hair Dryer: Ionic, Tourmaline, Ceramic
This powerful dryer was definitely worth the investment in my book. While I cannot attest to its longevity quite yet, I'm thoroughly enjoying this tool. Wash days have no longer been as much of a chore!