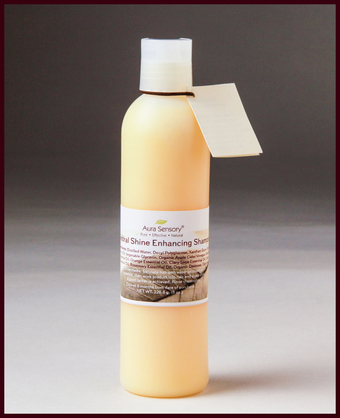 Ok, so it's not a "Thursday", but today we take a visit back in time to our introduction to what was then our first hair care product – Our Natural Shine Enhancing Shampoo.
Since it was introduced six years ago, we've improved on the formula numerous times and rested on what we really think is one of the best sulfate shampoos out there! It's also become one of our best sellers and continues to be a customer favorite! So enjoy reading our press release from the past!
We are very excited to finally introduce the first product in our natural, sulfate free hair care product line. This is a sulfate and sodium free shampoo that is free of harsh detergents that strip and dry the hair, making it dull, limp, frizzy and devoid of bounce and healthy body.
SLS (Sodium Lauryl Sulfate) is a detergent that is used in many shampoos to achieve a very large amount of lather. It's actually too much lather, but most consumers have grown accustomed to this in their shampoo, toothpaste and soaps over the years. We've become accustomed to it, and there's a psychological conditioning that this means we're getting things "cleaner" with more lather.
This harsh detergent started off as an industrial detergent meant for cleaning floors and the like and somehow made its way into consumer bath and body products. A lather this intense is not needed to achieve clean hair and in fact does more harm than good.
SLS and other sodium derivatives and sulfates actually rough up the hair's cuticle and make it look frizzy and dull. They also strip the color from your hair if you color or highlight your hair.
Our shampoo is ideal for color treated, porous or dry hair as it helps restore the natural sheen and bounce that bring life to your hair. Your color will stay more vibrant, more saturated than it does with normal stripping shampoos.
How does our natural sulfate and sodium free Shine Enhancing Shampoo cleanse your hair, and how does it differ from traditional shampoos? Our shampoo contains several natural essential oils including clary sage and grapefruit which act as "astringents" and cleanse the hair for optimal shine and manageability. These also purify and rejuvenate the scalp for a refreshed, healthy scalp.
In addition, organic apple cider vinegar acts as a shining and cleansing agent, helping to remove dirt, buildup and residue from the hair and scalp. Organic coconut oil adds a level of richness to the light lather, and coats your hair in protective fatty acids for a silky look.
Recent studies have shown that coconut oil, when applied topically to the hair, helps prevent protein loss in both damaged and undamaged hair which means it is ideal for any hair type for added health, flexibility and strength. This shampoo leaves you with clean, shiny and manageable hair.
It has a soothing herb-citrus scent that combines essential oils of orange, grapefruit, clary sage, cedarwood and rosemary. These oils all have wonderfully restorative properties that cleanse, tone and rejuvenate the scalp as well as remove buildup to help promote healthy hair growth and prevent dulling and drying.
As always, there are no parabens, no synthetic scents or colors, no detergents, no phthalates and no chemicals. Only soothing and protective, nourishing ingredients for healthy, brilliant and beautiful hair.