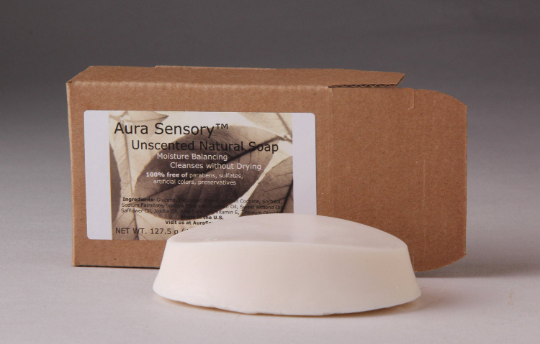 Not that long ago, in response to increasing demand for a sulfate and scent free bar-style soap and lack of brands that offer this along with freedom from sulfates and other drying ingredients, we announced the addition of a new product. Our unscented natural soap bar – generously sized for maximum lastability (looked it up, and yes - it's a word) is still the same great soap with the same rich moisturizing non-drying lather, just with no added plant essences for fragrance.
What you get is a totally scent-free bathing experience. On top of that, nourishing healthy plant oils (non-scented of course) add much-needed moisture and protection to the skin while cleaning at the same time. Related: Why Avoid Artificial Fragrances?
There are many people with fragrance sensitivities. Although many of these sensitivities and allergies are in response to the hundreds of synthetic chemicals that can make up artificial fragrances, there are also people who are sensitive to any fragrance whether natural or not.
They may experience headaches, nausea, or other types of allergic reactions. Heck, some may just prefer an aroma-free experience and are tired of being bombarded with all the scented products, and that's ok too! Any which way you slice it we are happy to offer this great moisturizing body soap with no fragrant oils added.
As with our other products, you will not find any of the following in this natural unscented soap:
1.) No SLS (Sodium Lauryl Sulfate) or other drying, irritating sulfates or detergents.
2.) No parabens or other synthetic preservatives. Vitamin E acts as a natural preservative and also doubles as an excellent skin conditioner.
3.) No propylene glycol or other petroleum-derived wetting agents.
4.) No DMDM hydantoin or other chemicals found in some body washes, soaps and other body care products. These chemicals produce formaldehyde the longer they sit on shelves. Formaldehyde is a known carcinogen and tissue irritant.
5.) No artificial colors. No artificial scents or fragrance (of course it is void of all fragrance).
This soap has a very pleasant, rich lather and cleanses the skin without stripping it of moisture. It leaves your skin feeling supple and smooth and does not disrupt or damage the delicate protective barrier which shields your skin from the elements like harsh SLS-containing soaps do.
It contains the additional skin conditioning ingredients as follows, all of which are free of any scent:
1.) Sweet Almond Oil – This is pressed from the almond nut, which as you likely may know is full of nutrients such as omega 3 fatty acids. These natural acids help protect the skin from drying out, and leave it feeling smooth and moisturized. This oil is used in a great many skin care products and alone as a soothing anti-inflammatory agent for irritated or tired skin. It also absorbs really well and is non-greasy, which makes it a great, non-heavy oil to help with a rich lather while also infusing the skin with penetrating moisture. It is also well tolerated by those with sensitive skin.
2.) Safflower Oil – This is another oil that contains potent antioxidants as well as skin conditioning agents. Safflower oil can improve the texture of the skin. It is high in linoleic acid, which is beneficial both when taken orally for the skin as well as when applied topically. It is a very light oil, and is odorless as well.
3.) Jojoba Oil – Another popular oil both in skin care and hair care products due to its remarkably close structure to our own skin protective oils. Another non-greasy oil that also has a slightly astringent effect and helps ward off fungal growth and other undesirable skin conditions.
4.) Aloe Vera – Aloe vera is mostly known as a great after-sun remedy to help soothe sun burned skin and reduce the inflammation and damage done to the skin from excessive UV exposure. It is a very healing plant by-product that has been used for centuries to aid in the healing of skin abrasions, burns and general skin trauma.
These oils are combined with very mild lathering ingredients (NO Sodium Lauryl Sulfate) to get your skin clean while maintaining a protective barrier to keep it moisturized, smooth and youthful. No harsh detergents, no hormone altering chemicals added like fragrances or chemical preservatives. Just simple, nourishing ingredients that leave your skin both clean and moisturized.