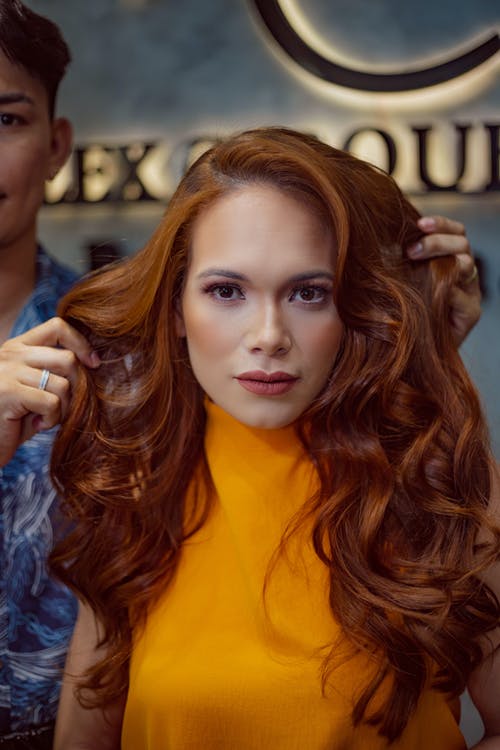 Do you have naturally curly or wavy hair? Is there a fine line between full, bouncy waves and uncontrollable "big hair" that seems to be puffy and misshapen? Lots of us with longer hair have this issue. If it's not a humid summer day (related: Why Humidity Affects Hair Texture), then it may be the way you slept on it, going too long between washes, or sometimes this can just be the natural state of your hair when it's freshly washed.
Sometimes it takes time for hair to "calm down" after an initial wash. The good news is, if you like the waves and body, but can't seem to get your curls and waves to look well defined and shaped, while also still looking healthy with minimal frizz, there are some excellent products that can help. Unfortunately we do not make any of these types of products yet, but it may be on the horizon some day!
Wave and curl enhancing products range from creams, pomades, and waxes, to beachy sprays made with sea salt and other texturizing ingredients. I personally have not found sea salt-based sprays to be effective for my particular hair type. These sprays tend to make my hair look dry and dull, but there are some hair types that have great success with sea salt-based sprays.
Hot Rollers – Your Secret Weapon for Wavy, Non Frizzy Hair
I've recently rediscovered hot rollers. I've fallen back in love with this beauty staple primarily because well, I'm lazy. And I really hate the time it takes for me to use a large barreled curling iron to achieve a similar look. It takes a while for me to get the desired look because I have to hold the curling iron in each section of hair for a decent amount of time if I have a prayer of the curl holding. I had two old sets of hot rollers collecting dust in my closet and one day I saw them and thought I'd give them another try. Manually curling sections of hair can also take a ton more time when you have fine hair, since fine hair needs longer to curl.
Although they are really old and the technology has changed a bit, they still gave me a nice wave and body without having to take all the time to wrap each individual section around a hot iron. These were the jumbo rollers that only come in about 5-6 per set. They really don't fit all of your hair in them though, unless you wrap very large sections of hair around each one, which reduces their effectiveness.
I thought, why not buy a larger set of a mix of jumbo and smaller rollers? Especially with the newer anti-frizz, titanium and ionic smoothing technologies many of these hair styling tools have nowadays.
A Mix of Hot Roller Sizes is Ideal
So I settled on a mixed roller size set by the haircare company Babyliss Pro. This set is really great. Once you get the hang of them, you can easily set your hair in about five minutes. You can do plenty of other things while they do all the styling work for you. I like to leave them in until they have completely cooled off. I find that they set much better if they've cooled all the way. Related: Why a Beer Rinse May Make for Less Frizz, Shinier Hair
Once you unroll them (roll them so they are perpendicular, not horizontal, this way you'll get spirals), I just let them sit. I don't comb through or brush out, and within about an hour it looks pretty good. You may want to put a little hairspray or setting spritz in your hair once they are out. These really are a life saver if you hate taking time to curl your hair but you love the body and waves they give you. I guess we could have written this whole thing about hot rollers – oh well!
Let's move on to a few more topical products
There are only a very few that I've tried and liked so the list is pretty short. As I said, it's really tough to find a good waving and curling product that doesn't make your hair stiff, frizzy, dull looking or greasy. I've tried many over the years and a lot of them failed.
Curl Creams
This is a classic favorite mode of creating curls, however curl creams can have their limitations. I discovered this many years ago when I was wearing my hair on the more natural side with large waves. Even if you have long hair, you probably will only need a small amount to work pretty well.
You can simply apply these cream curl enhancers products to towel dried hair, working it through well, from just above the root to the tips of the hair. I personally like to still blow my hair out because my hair tends to look much smoother when I blow it dry. My hair is just not conducive to air drying, never has been and never will be.
So even when I'm going for a wavy look, I still blow my hair out to get a flatter and shinier surface. If you use this product at night after a good wash and condition, followed by a blowout (nothing too time consuming, even a 5-7 minute blow dry can do the trick), and then sleep on your hair, you will wake up to some pretty bountiful waves. The limitation to curl and wave creams is that, unlike sprays, you can't really reapply them to refresh your waves.
Because waves are fleeting, especially if you have fine hair that tends to straighten back out quickly after being curled, you can always refresh them using hot rollers. Or a curling iron. But hot rollers are so appealing because you can roll them all up in your hair, which takes all of about five minutes, then sip your morning coffee while time does the work that you'd have to do manually with a curling iron. Who has time for that!?
Curl Primer Sprays
There are some great options out there by big name salon brands that offer a curl priming or curl primer spray. The ones I've used are thicker in consistency than you think would fit through a sprayer! These types of sprays are where you want to be careful in reading unbiased reviews.
Sprays that claim to prime the hair can be really awesome for providing a nice base for curls and waves. They can also tend to make the hair weighed down or dull looking. So look for the right one and you may be really happy with it. A great side benefit to sprays versus creams is that you can refresh your hair after a day or so with the spray and scrunch it back up into formed/defined waves or curls.
Wave Sprays
There are some great wave sprays out there too, but these are really where you want to make sure your hair is conducive to this type of product. Thin, watery sprays often contain a lot of fragrance, which can really stick around for a while til it dissipates.
Plus wave sprays often contain sea salt. This works wonders for some people, but dries others out. I think it really depends on your hair type. Look for a spray with not only curling ingredients like polymers, but also for moisturizing and shining ingredients.