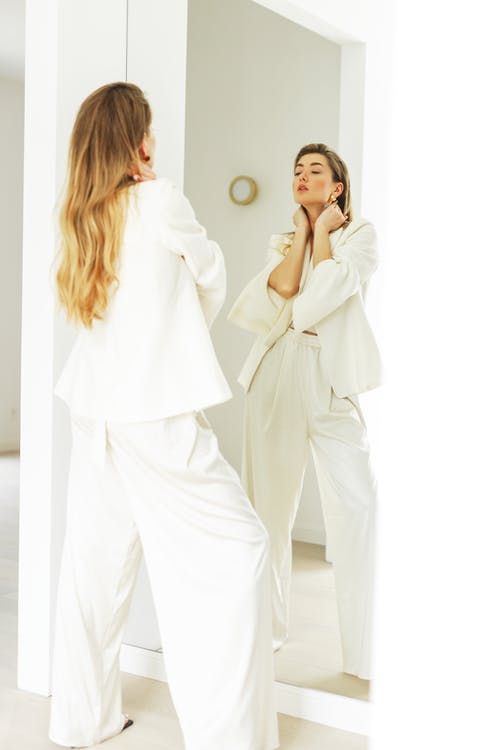 It's summer time officially, and for many of us ladies and guys, that means we'll be treating our hair to summer highlights. For me, I've reached a point where I require highlights year-round to help camouflage that increasingly abundant grey hairs.
It's actually healthier than the alternative of trying to keep my hair dark as I age, since most dark hair dyes are more toxic than highlighting agents, plus darkening the hair doesn't provide the great camouflaging that highlighting does. But our hair gets lighter in the summer regardless of whether we are among those getting highlighting treatments.
Lightening Your Hair Usually Results in Higher Porosity
Your hair is exposed to a lot more natural sunlight (and heat) in the summer, especially if you're a person that likes to spend time outdoors. This results in a lot of lightening and natural highlights. Which can look great. However, highlights mean damage essentially. Related: We are working on a new intensive repair shampoo and can't wait to make an announcement! It will be a while yet though, still tweaking the formula for near-perfection.
This shampoo will be designed to address porosity and protein loss, and paired with our Deep Hydration Conditioner, it will be the perfect "switch off" between our regular Shine Enhancing Shampoo and this new one for the best results and keeping your hair happy by not using the same product for years on end. Related: Castor Oil for Thickening Eyebrows
Highlighting peroxides and bleaching agents literally take the color out of your hair, which means that what remains is higher porosity and increased likelihood of breakage. And let's not forget about the dry appearance that color-pulling can result in. So it's important to help "fill in those spaces" that are created by this lightening effect. This is all called porosity.
It simply means that each individual hair strand has more "holes" in it, in a very high- level simplification. When your hair is more porous, it can break more easily. The integrity is compromised due to less "surface space" and elasticity is challenged as well. This results in breakage. In fact, I've often had a lot more breakage around my face where stylists often put face-framing highlights.
Protein Replacement for Porous Hair
One of the options to help reduce porosity is a good protein type of hair treatment. Proteins help to fill in the pores that have forms in the hair, and strengthen the bonds that provide stability. If you're thinking about one of these, just be careful as sometimes the remedy can be worse than the issue you're trying to fix if overused or the wrong product is chosen. You can go to many salon supply stores and find protein treatments.
It's a must to read the reviews first, so if you see a product on the shelf, definitely look it up online first. Or better yet, just buy it online and you can get a two for one. Protein treatments help to address the underlying problem of porous hair, which is to help fill in the gaps created by environmental damage, highlighting or dying, chemical hair treatments, overprocessing and styling with heat tools, and sun damage. They literally can help to strengthen the hair against breakage and damage. Keratin treatments can help fill in the gaps too.
There are some treatment options you can get at a salon for keratin treatments, however they usually involve the use of chemicals and can actually damage the hair. If you want keratin, buy a simple product that is infused with this substance, instead of option for a processed approach.
If You're Getting Your Hair Highlighted, Do This
If you're making an appointment to get your hair highlighted, most stylists will offer an intensive conditioning treatment of some sort. Ask which of their conditioning or mask treatments would be best to address the porosity that comes with highlighting and processing. They should be able to make a good recommendation.
This way, they can immediately follow the highlighting process with a protein replenishing or smoothing treatment of some sort. This will help to immediately address some of the natural damage that unfortunately comes with highlights or dying hair a lighter or blonder shade.
Natural Options for Porous Hair
Coconut oil is an excellent remedy for porous hair. It's the main reason why we include this important ingredient in both our Natural Shine Enhancing Shampoo and Deep Hydration Conditioner. Coconut oil is a natural way to help replenish hair that has suffered protein loss. It also has a high lauric acid content, which helps to smooth the cuticle.
Often times, smoothing the cuticle is really synonymous with protein replacement because when we think of protein replacement, we think of a smoother, flatter surface. You can't have a smooth, flat surface if you have high porosity. The two don't coexist.
If you want a great way to add coconut oil to your haircare routine, try melting some down and adding it to your shampoo. This is a better way to get coconut oil onto the hair than trying melted coconut oil masks, which can result in weighed down hair. The intent is good, but the results can be a little extreme.