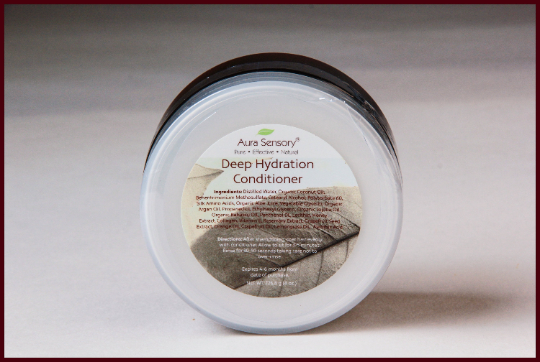 We know, the title of this post is pretty cheeky, but it really is true. Our Deep Hydration Conditioner is not just for those with dry or damaged hair. It is actually perfect for just about any hair type whether ethnic, coarse, fine, grey (or gray, depending which way you prefer to spell it), blonde hair, dark hair, older hair, younger hair, men's and women's hair. Some people make the mistake of assuming a thick or rich conditioner might weigh their hair down. This conditioner is unique in that it really injects hair with moisture without weighing it down.
Why Are We Talking About the Deep Hydration Conditioner today?
So we thought we'd take the opportunity to talk about one of our flagship products that also happens to be a best seller. It's also one of our highest return customer products, meaning most people who buy it return to buy it over and over again! This conditioner is an almost mask-style, super rich and thick natural deep conditioner gives your hair that healthy luster, volume, bounce and manageability you've been looking for without all the chemicals, artificial scents and colors and preservatives.
Formulated with some of the most effective ingredients for not only effective detangling, it also provides superior moisture infusion, flexibility and strength, it helps restore and repair dull, damaged, dried out or stressed hair that has lost elasticity and sheen.
A little of this intensive & concentrated rich, deep intensive conditioner goes a long way in quenching thirsty, porous locks. It is a rinse-out conditioner that should be left in 3-5 minutes before rinsing. The longer you leave it in before rinsing, the better it works to hydrate, smooth and infuse healthy soft-body sheen.
All About Deep Hydration Conditioner Ingredients:
Organic Argan (also known as Moroccan) Oil - this oil contains high concentrations of fatty acids, polyphenols, naturally occurring vitamin E and carotenoids. Its high antioxidant and fatty acid content makes it an excellent moisturizer for dry or damaged hair. It helps smooth and mend rough surface areas, prevent split ends, fortify and protect against damage, deeply condition and infuse wonderful sheen and strength into every strand of hair. Related: Protect Hair from Frizz-Inducing Humidity
Silk Amino Acids - Think of silk in liquid form, and that is what silk amino acids feel like to the touch as a raw material. These create a silky feel and detangle the hair without putting weight on it, giving it a weightless bounce and shine and infusing it with vital amino acids which help protect and fortify the hair against damage.
Organic Coconut Oil - We include this in both our Shine Enhancing Natural Shampoo and our Deep Hydration Conditioner because it is such a wonderful conditioning and restorative agent. Coconut oil helps seal the hair against the elements and can really penetrate the shaft, helping "fill in" dry, porous hair for excellent conditioning and nutrient infusion. Related: Why Coconut Oil is Excellent for Porous (or Grey) Hair and Skincare
Behentrimonium Methosulfate - First off to prevent any confusion this is NOT a "sulfate" as you may traditionally think of them (harsh detergent-surfactants). We are going to go on the longest about this ingredient as it is really one of the best all-around conditioning ingredients on the market today. It is actually derived from rapeseed (canola) oil, and is one of the best detanglers available with its naturally slippery & emollient consistency.
Behentrimonium methosfulate is unique amongst conditioning and detangling ingredients in that it is the only one that has the ability to penetrate and hydrate the hair rather than simply coat it and cause buildup - hence the reason it was chosen for our product. In order for a conditioner to be effective, a great detangling agent is an absolute must or you will end up with a dry looking mane that stays clumped together rather than getting separated, smooth strands that are easy to manage and manipulate.
Wildcrafted Babassu Butter - Like coconut oil, babassu butter is high in lauric acid, which helps protect and fortify the hair. It is easily absorbed and is popular in natural skin and hair care products because it does not have any greasy residue. Another gift from nature for natural skin and hair care!
Panthenol DL (Pro Vitamin B5) - Pro Vitamin B5 is a powerful B vitamin offshoot which is known for its ability to easily penetrate and hydrate the hair and skin. It helps the hair maintain elasticity and strength and is excellent for damaged or dry hair. It also helps to boost shine and improve the surface texture of the hair. An absolute must for any deep conditioner, no matter what your hair type is. Related: Panthenol Hair & Skin Care Benefits
Organic Aloe Vera Juice - Aloe vera juice is actually part of the "base" off of which our conditioner is created. Aloe vera has been used for centuries to help heal and soothe the skin. It has the same effect on the hair. It helps heal and soothe the scalp and also helps reduce dandruff and itchy scalp. Because of these scalp soothing qualities it is thought to help spur new hair growth and encourage healthy hair follicles. It helps restore a healthy pH balance to the hair. Aloe vera juice is also a natural detangler.
Organic Unrefined Jojoba Oil - Jojoba oil is also an excellent toning agent for the scalp. It is also a great natural moisturizer and smoothing agent that protects against brittleness and breakage.
Essential Oils of Lemongrass, Sweet Orange and Grapefruit - These three essential oils not only provide a wonderful natural pleasing scent to our conditioner. They also serve as very effective shine boosters by helping smooth the cuticle for a flatter, more reflective surface which results in higher shine.