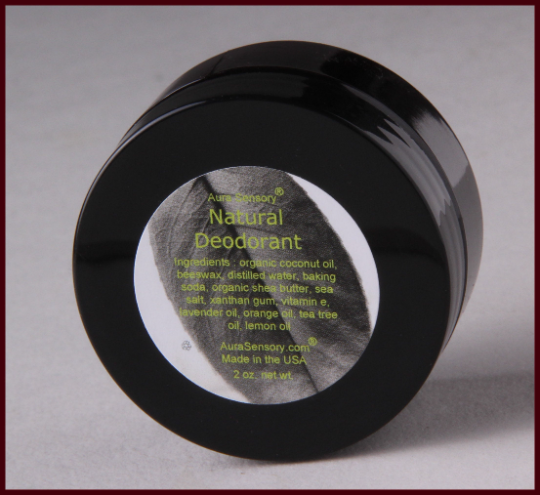 Decided to post a throwback to our introduction of one of Aura Sensory's original products. This product has turned 10 years old! And it's on sale at the best price ever now - for a limited time! Sure, it's taken on different iterations over the years, but the formula at its heart still remains the same. It started off as a stick style deodorant. This was difficult to maintain a reasonable price while also ensuring the stick stayed formed.
It came with other consistency issues. So eventually we decided to make it a deodorant balm. A small, compact and easily transportable 2 oz. jar contains plenty of this potent, all natural alternative to traditional deodorants containing aluminum, chemical antibacterial agents, parabens, petroleum, artificial fragrances and plenty of other questionable ingredients!
Strong and Long Lasting Odor Protection - All Natural (No Catch!)
Gardening? Jogging? Going to the gym? Sweating outdoors in the heat and humidity? Stressful day at work? Our formula provides all day odor protection, and works all day long to keep your underarms free of offensive odors. Many deodorants that are aluminum free still contain propylene glycol, which is a type of mineral (petroleum) oil that is considered a toxin in various concentrations. Ours is petroleum free. This deodorant is formulated without aluminum, without alcohol, and without petroleum. Related: Why Avoid Petroleum?
Propylene glycol and other petroleum-derived ingredients have also been reported to cause allergic reactions and irritation. Why so effective at controlling odor? Our product is very effective due to powerful antibacterial and antimicrobial agents that are found in nature (see ingredient list to the lower left). Unlike many other natural deodorants, you will not notice odor creeping in after several hours of wearing as the odor-fighting compounds, combined with the oils and beeswax used for good adhesion to the skin, remain in effect all day.
Features of This Naturally Potent Odor-Fighting Deodorant Balm
A little goes a long way. Just a thin layer covering the underarm area is all you need with this product for all day control of odor-causing bacteria.
35% less packaging = Better for the environment. Easily transportable for travel.
Zero waste. Use product to the "last drop"
No aluminum, parabens, propylene glycol, triclosan, chemical preservatives.
Beeswax used in our formula is totally additive and chemical free, straight from beekeepers right here in the US.
Clean "lemon tea" scent from 100% pure essential plant oils suits both men and women. Lavender, tea tree and orange & lemon essential oils are some of the best natural antibacterial & deodorizing agents.
Includes conditioning skin ingredients for sensitive skin
No white residue
$8.50
Why Blocking Sweat is Not a Good Idea - And Why Ours is Formulated WITHOUT Antiperspirant
The aluminum that is in so many commercial grade deodorants is effective against sweating (to a degree, we all know even the most potent ones still allow some sweating) for a reason. It actually clogs the pores that allow the skin to sweat. Add to this that many commercially available deodorants contain propylene glycol to help with easy application and "slip" and that's quite a bit of masking that is happening to the skin - it should be able to "breathe". Your body, particularly this part of your body, does need to sweat a little - it's detoxifying.
Your under arms contain the largest concentration of sweat glands compared to any other area of the body. This is primarily how your body rids itself of toxins. Underarm sweating serves a purpose in nature, to help eliminate excess salt, and to naturally cool the body off when it is overheated.
When you coat the underarms with silicones, aluminum, and other synthetics, you are preventing your body from utilizing these natural processes - essentially blocking your body's primary method of detoxification. This in itself can be problematic, as the body does need to emit some sweat from the underarms.
Sweating is one of the largest means by which we rid our body of toxins, so blocking this from happening is simply not a good idea. It controls odor so well that many people remark they can work out, do yard work, have stressful conference call at work, and STILL not have any underarm odor.
Ingredients: Organic Coconut Oil, Beeswax, Distilled Water, Baking Soda (Aluminum Free), Organic Shea Butter, Sea Salt, Xanthan Gum, Vitamin E, Lavender Oil, Orange Oil, Tea Tree Oil, Lemon Oil